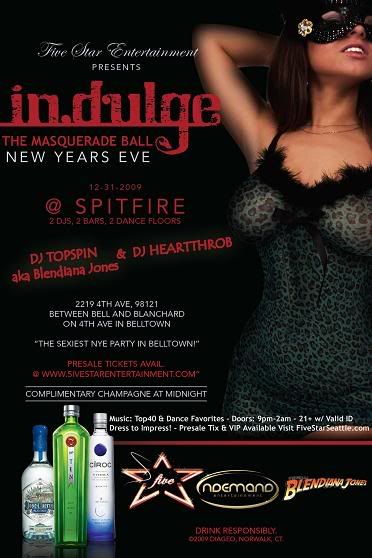 There's so much to do on New Year's Eve, but what you should do is come kick it at Spitfire w. 5ive Star Ent!
INDULGE - The Masquerade BallNew Years Eve @ Spitfire
2 rooms, 2 DJs, 2 Dancefloors, 2 Bars
Worldfamous DJ Topspin (aka Blendiana Jones) along with rising star DJ Hearthrob spinning your favorites all night long.

Both rooms will have your favorite Top 40, club bangers, dance songs, and mashups. 400 of your closest friends; sexy people dressed to impress and having the time of their lives.

Everyone is encouraged to bring their own mask - Party City and Champions are good places to get masks. We will provide masks for those who don't have them, but of course they're just simple cheap black ones that may or may not fit your face;)

Party favors, decorations, great music, sexy people who know how to have fun, and delicious drinks. All well drinks are $5 bucks all night. FREE Champagne courtesy of our sponsors (while supplies last).

Bring the new year in right!

** VIP tables are available starting at $175 ** - comes with a VIP table, a bottle of champagne, admission for four (w/ VIP wristbands), chocolate covered strawberries, and extra NYE party favors.
Holla at me or any of the 5ive star dudes/chicks for your $15 ticket! Trust, this will be crackalackin bootysmackin!